Tennova Ceasing Opiate Rx at Pain Clinics
May 8, 2018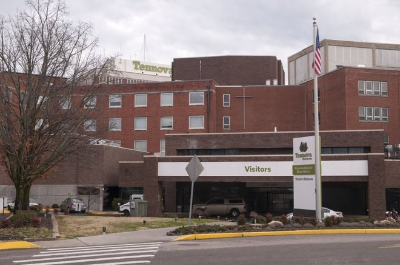 Tennova Healthcare is notifying patients of its Pain Management Centers at Physicians Regional and Turkey Creek medical centers that it will no longer prescribe long-term opioid drugs for chronic pain.
By Kristi L. Nelson of the Knoxville News Sentinel
Tennova Pain Management Centers will no longer prescribe long-term opiate medications to patients, the health care system confirmed Monday.
Patients of the centers, affiliated with Tennova's Physicians Regional and Turkey Creek medical centers, have been given letters as they come in for appointments, notifying them of the change and offering both "widely used, non-opiate alternatives" as well as an in-house "clinically appropriate tapering regimen to transition you to the appropriate alternatives," the letter said. "If, despite our best efforts, you experience withdrawal symptoms, please seek treatment at the nearest emergency department."
Related document: Letter to Tennova Pain Management Center patients
Jerry Askew, vice president of external relations for the health care system, said the change was the decision of the anesthesiologists who provide care at the clinics, both of which will remain open and offer non-opioid pain management techniques. Tennova closed a third clinic, at Tennova North in Powell, last year, but that clinic was closed to streamline services, Askew said.
"Tennova Pain Management Center is committed to providing pain management services responsibly and safely," Askew said. "This change was considered for several months in response to changing regulations and increasing national opiate addiction rates, and we began notifying physicians and patients of this decision in early April."
Initially, patients who decided to discontinue treatment at the Tennova Centers were given a shortlist of local pain management centers that still offer opioid medication management, but Tennova is directing those patients to the Tennessee Department of Health website, which offers a comprehensive list at https://apps.health.tn.gov/facilityListings/. Those who choose to change providers can still get routine medical care at the center for 30 days, and can get copies of their medical records, Tennova said.
But some long-term Tennova patients said such medications offer their only hope of quality of life with certain chronic illnesses, and they're upset to lose the opportunity to access them at a hospital-affiliated clinic, where they felt less "stigma." Some callers told the News Sentinel many independent pain-management clinics do not file insurance, or that they are worried they're raising their risk of becoming a crime victim if others see them coming and going.
The change comes just as the state Department of Mental Health and Substance Abuse Services issued a news release citing the success of the state's prescription drug abuse efforts, which involves multiple agencies, including the state departments of health, children's services, safety, corrections, Homeland Security, TennCare and the Tennessee Bureau of Investigation.
"The bottom line is that fewer opioid prescriptions are being written and fewer Tennesseans are experiencing the downside and disastrous consequences of a painkiller addiction," said Douglas Varney, commissioner of the Department of Mental Health and Substance Abuse Services. "We are succeeding in reducing the number of prescriptions being written. We have helped more people into treatment and recovery and rallied a new generation of Tennesseans to live a life free of addiction."
Among changes are requirements that all clinics be registered with the state; doctors register with and check the Controlled Substance Monitoring Database before prescribing opioids or benzodiazepine drugs; pain management clinics can no longer dispense medication, and pharmacies can dispense only a 30-day supply; and doctors at pain management clinics must regularly urine-test patients to ensure they are appropriately taking their medication — not abusing or selling it.
Last week, state legislators signed a bill — Senate Bill 1466 and House Bill 1731 — that would impose more restrictions on clinics. Among other regulations, it would require clinics have a specific license issued by the commissioner, with no option for appeal if declined. Originally, it also required clinics to obtain a certificate of need from the state, but an amendment removed that requirement before it was passed.
The bill is sponsored by Republican Sens. Randy McNally, Richard Briggs, Rusty Crowe, Paul Bailey, Janince Bowling and Ken Yager. The Legislature is in recess.