Knoxville Police Officer Resigns After Indictment on Drug Charges
April 20, 2016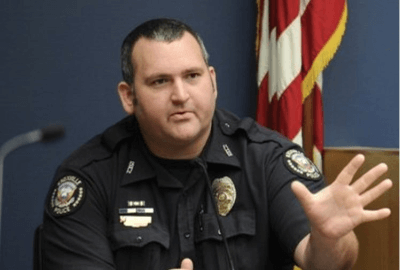 Joshua Hurst, a 13-year veteran of the Knoxville Police Department, and seven other people face various drug charges, Knox County District Attorney General Charme Allen said at a news conference Wednesday. The drugs dealt included oxycodone, oxymorphone — both prescription opiates — and methamphetamine, she said, over a span of nearly two years.
"This case demonstrates the pervasiveness of the opiate epidemic in our state and our community,"Allen said. "Anyone who does not believe that prescription drug abuse is a severe, significant problem in our state, and that the problem has reached a crisis level, is sadly mistaken."
Allen said when Knoxville Police Chief David Rausch informed her in late February of possible criminal conduct within the police department, she immediately contacted the Tennessee Bureau of Investigation. The resulting probe lasted two months and culminated in the indictments, returned Tuesday by a Knox County grand jury. She didn't say specifically what led to the police chief's suspicions.
TBI officials said some of the drug deals occurred within school zones. Most of the deals occurred within Knox County, but also in other counties across Middle and East Tennessee, authorities said. Court records indicate the deals began as early as May 2014.
Hurst, 38, had been an officer since November 2003. He turned in his resignation Wednesday, KPD spokesman Darrell DeBusk said.
Hurst was named KPD's Officer of the Month in May 2007 for a traffic stop that led to a series of arrests on drug and gun charges. He also received the department's Lifesaving Award in February 2007 for helping pull a driver from a burning car. His squad was cited for its high number of drug and DUI arrests in September 2014.
Rausch teared up during the news conference, saying Hurst betrayed the duties of his badge.
"To the officers that work in this city, they have my commitment," Rausch said. "We will continue to assure that anyone that wears this uniform and this badge will always be above reproach, will always have the highest level of integrity, will always meet our core values, and if one determines that they're going to stray, we will find out, and we will quickly and judiciously address them as we have proven in this case."
Hurst faces charges that include conspiracy to possess oxycodone and oxymorphone with intent to deliver in a drug-free zone, four counts of official misconduct, possession of a gun during the commission of a dangerous felony, and delivery of methamphetamine.
Also charged in the case were Milbern Breeden Jr., 50, of Knoxville; Erin Keenan, 41, of Knoxville; Pamela Moretta, 43, of Knoxville; Paul Gilbertson, 44, of Knoxville; Trevor Loy, 37, of Wartburg, Tenn.; and Jacob Hurst, 35, of Clarksville. All were arrested Wednesday.
One person charged had not been taken into custody Wednesday evening, TBI officials said.
About Travis Dorman
Travis Dorman is a metro intern at the Knoxville News Sentinel.